We've all been there. You just moved into your stunning (and expensive) New York City apartment. Reality hits and that big clean, white room you thought was more than 800 square feet suddenly resembles something like your college dorm room you shared with 2+ other people...
Furnishing a smaller apartment can be quite the challenge especially when you're not looking to spend $10,000 on custom furniture. Plus, you already paid a luxury price for your door-man and top-floor apartment, so you want to make every square foot count! You now begin using words like shallow and narrow to describe your space.
So what's a person to do? Be savvy, be smart, and be practical. We live in an age of convenience, so why should your home space not live up to that standard? Optimize your space, utilize pieces for more than one use, and get that perfect fit. Check out the list of seven designer-approved and endorsed furnishing stores for small apartments.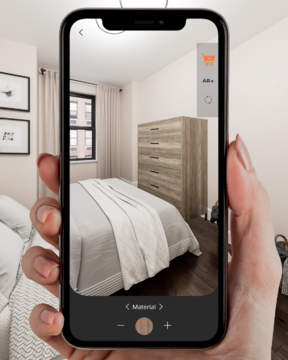 There could be a slight bias in our number one choice. But, can you blame us?! Baru has made it radically efficient to design your perfect shallow H x W x D dresser, narrow desk, multi-purpose room divider and more. All pieces are multifunctional giving you the most out of your space. Baru's Skinny Space Series allows you to fully optimize your bedroom, living room, studio apt. Etc…
All items are made locally in New York and includes free white-glove delivery and assembly within 2 weeks. No brown boxes, no overseas tariffs, or global shipping of your goods, which effectively lowers your carbon footprint. Additionally, our 30-day money-back guarantee ensures you have nothing to worry about if you don't like the piece. See for yourself. Download the Baru app and use our Augmented Reality to see it in your space before you make your purchase.
2. Pottery Barn
Pottery Barn offers everything from A-Z. Bedroom linens, kitchenware, couches, decor and more. They even have a curated catalog for apartments and other small space categories. However, be ready to shell out some major cash to keep up with their modern traditional collections.
Similar to Pottery Barn, Restoration Hardware is an upscale furnishing company. Their assortment of collections gives you the chance to decorate your space creatively but with size limitations. For instance, there's no way you'll be able to fit their stunning Cayden Campaign 6-Drawer Dresser in your 10x11 foot bedroom if you also want to keep your Queen size bed and to be able to open the door. It's tough to find attractive and practical designs in small packages.
4. Apt 2B
Looking for an apartment-sized sofa? Well, Apt 2B should be your first stop. Their fun and creative colors give you a chance to flex your style without the cringe-worthy factor. We especially give Apt 2B a thumbs up because all of their products are made in the USA and they offer a lifetime warranty. Nothing screams quality products like offering a lifetime warranty and easy returns.
5. Wayfair
Wayfair makes it incredibly easy and convenient to buy almost any piece you might need for your apartment. But, you pay for what you get. Unfortunately, I don't foresee that $100 desk holding up against your coffee mug stains and everyday wear and tear. Plus - will it even fit in the small gap between your radiator and wall?
Urban Outfitters recently transitioned their "home" section to "apartment" meaning their pieces are specifically designed for smaller spaces. UO, traditionally an apparel store, gives a youthful, bohemian twist on furniture and decor. They focus on artistic styles and offering vibrant color palettes to express yourself. Their unique shapes make it easy to find statement pieces for your apartment.
7. Etsy
Etsy is home to thousands of unique items for your home and living space. More importantly, their Storage & Organization has a myriad of unique cabinets, multi-functional pieces, and creative storage and bins. This gives users the ability to filter for items that will fit their small space.
How to Properly Optimize Your Space
Don't let your lack of space comprise your functionality! Making the most of every square foot is paramount and it's key you fully optimize your space. It's 2020 people, there's high-quality furniture that fits and won't cost you an arm and a leg.
Here's a link to Baru's collection. And here's a link with $250 off your first Baru piece.